The new range of spectrum analyzer models ARINST SSA R2
Arinst is available measuring instruments for radio Amateurs, repairmen and installers of radio equipment. Devices Arinst much cheaper counterparts, but the user receives everything needed to function.
Portable spectrum analyzers series Arinst SSA R2 is designed to display spectra signals in the frequency range from 35 to 6200 MHz. Devices allow to determine the amplitude and frequency of spectral components included in the signal.
Spectrum analyzers show spectra of signals of all common technologies: wifi, 2G, 3G, 4G, LTE, CDMA, DCS, GSM, GPRS, GLONASS, etc.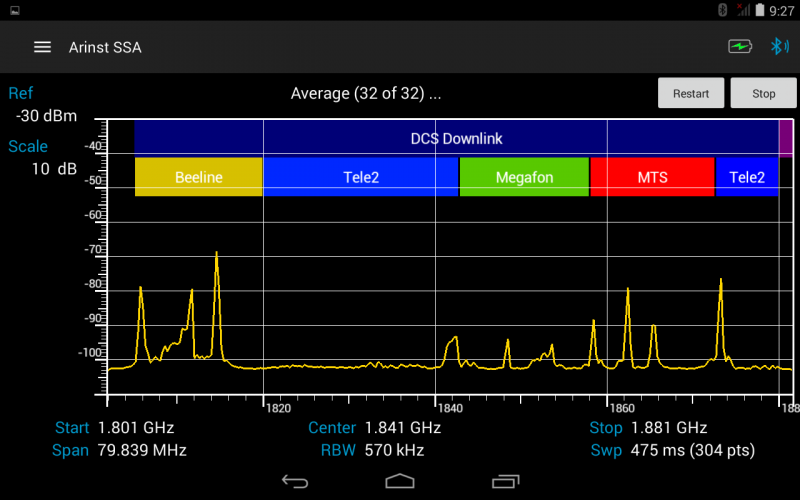 To date, the range of the instrument Arinst there are 2 spectrum analyzer and one grade for installation teams:
The advantages of spectrum analyzers ARINST SSA:
the color resistive display with a diagonal of 3.2 inches,
wide frequency range: 35 to 6200 MHZ,
a quick scan of the range

of frequenciesof about 500 µs per point
high measurement accuracy: 2 dB within the dynamic range of 70-75 dB,
small weight and sizes: weight only 400 g, the size of 155х81х27 mm
self-powered for up to 4 hours

of continuous operation
wireless data transfer

to smartphone/tablet
work with most devices running Android,
the ability to use one device with multiple smartphones/tablets
the ability to power the device from a tablet or smartphone
free software and free updates to the management appliance.


Who it's for.
The device is designed primarily for field work, it has a very small size and weight, has a low power consumption. With it, service centers and repair crews can perform RF analysis for start-up and commissioning or repair work. In addition, our analyzer is ideal for workshops and hobbyists. For example, using the device you can perform the following operations:
put an external antenna on the base station,
to conduct a rapid analysis of the RF environment
to check the correct operation of the repeater cellular
repair and adjustment of the repeater, generator, filter, etc.
to measure the SWR and antenna gain
Spectrum analyzer made in the form of a mobile device with Autonomous power supply, which is connected in the measuring circuit. The device has a 3.2" color touch resistive screen to display the spectra of signals and the instrument control. In addition, the device is controlled by a smartphone or tablet running Android version 4.1-8.1.
Data between the device and the smartphone are transmitted both through the built-in Bluetooth module, and USB cable. Bluetooth operating range up to 10 meters (the Password to access via Bluetooth: 1234).