Kroks Rt-SAN2 router is equipped with a built-in sector (near 90 degrees) Wi-Fi MIMO antenna with a gain of 12 dBi, designed to work in the range of 2400-2500 MHz.
The device runs under the operating system OpenWRT, providing bandwidth allocation (QoS), firewall, user access control and many other features.
The case of the router is not protected from moisture and precipitation. Operation is allowed only in enclosed spaces (apartments, offices, warehouses).
With Kroks Rt-SAN2 you can:
connect to the Internet provider's network via a wired connection (L2TP, PPtP, PPPoE, DHCP-client, static);
extend the coverage area of an existing local wireless network (Wi-Fi client mode);
extend the coverage area of an existing local wired network (access point mode);
organize wireless communication in point-to-multipoint mode.
Advantages of the router:
high antenna gain significantly increases the range of the transmitted Wi-Fi signal without increasing the transmitter power, while increasing of the coverage area is provided by concentrating the signal radiation in one plane;
MIMO technology increases data transfer speeds;
the ability to supply power from both the power supply and the twisted pair via a WAN or LAN port using passive-PoE 7-24V technology;
the possibility of flexible configuration of the router by the user for personal preferences through the Web-interface. Access to the web-interface of the router is carried out both from a PC via a local network and from mobile devices via a wireless Wi-Fi network.
What caused the possibility of covering large areas of Wi-Fi signal without increasing the radiating power?
The radiating elements of the antenna of the router form a narrow Wi-Fi signal pattern in the vertical plane (20 degrees) and a wide pattern in the horizontal plane (80 degrees), which allows covering a large area within one floor with a Wi-Fi signal.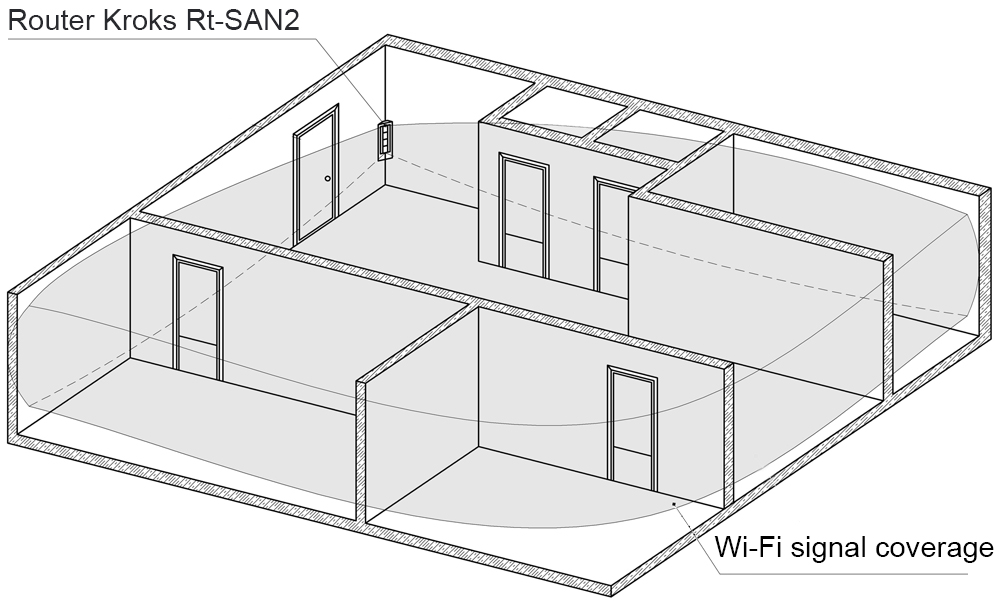 The signal from the directional antenna of the router extends to user devices located within the same floor. User devices located above or below the floor do not detect a signal from a directional antenna and do not interfere with the Wi-Fi network.
In turn, the directional antenna of the router, due to the wide radiation pattern in the horizontal plane, receives a significantly weakened Wi-Fi signal of "foreign" networks from other floors of the building.
Thus, a stable Wi-Fi signal with a low level of noise and interference allows the router and user devices to significantly increase the speed of data transmission.
Technical characteristics of the router:
OpenWRT operating system
Operating frequency range: 2400-2500 MHz
SWR in the working range: no more than 1,5
Gain: 10 dB
Directivity : 12.4 dBi
Radiation pattern width in the horizontal plane: 80 °
Radiation pattern width in the vertical plane: 23 °
Forward/backward ratio: 20.6 dB
Polarization: double linear ± 45 degrees
CPU frequency: 580 MHz
Flash: 16 MB
RAM: 64 MB
WLAN2.4: b / g / n
Ports: 1 WAN, 1 LAN (100 Mbit)
Body Material: Aluminum
Router power: 7 - 24 V, 10 W (Passive PoE)
| | | |
| --- | --- | --- |
| Dimensions (length , width , height ), mm | | |