Portable generator ARINST ArSiG-S generates high-frequency signals in the range 1-6200 MHz. The device is capable of sweeping the output signal, both in frequency and in level. The generator has the ability to use an external highly stable signal source as a reference.
ARINST ArSiG-S generates sinusoidal oscillations over the entire operating frequency range.
The generator is intended for outside works. It is designed in a durable aluminum case in the form of a mobile device with autonomous power supply and is intended primarily for work directly on the object, since with low weight and compact sizes differs by low power consumption. The device is used to generate test signals for developing and debugging various devices: amplifiers, filters, receiving and transmitting paths, when measuring and analyzing antennas. In addition, the device is ideal for workshops, radio amateurs, educational institutions and laboratories.
The device has 4 "color resistive screen for convenience of setting up and control the instrument.
Advantages of a portable generator ARINST ArSiG-S:
wide frequency range: from 1 tо 6200 МHz;
low noise 26 MHz TCXO with ±0.5 ppm stability;
adjusting the level of output power in excess of 30 dB without using external attenuators;
color touch screen with a diagonal of 4 inches serves to quickly configure;
simple and understandable screen interface device;
pulse output signal modulation;
signal output in the mode of step-by-step sweep and sweep by the list;
memory on 50 sweep items in each list;
possibility to control an external trigger to synchronize measurements with other devices;
possibility to use an external and internal reference signal;
saving 10 custom presets;
possibility to adjust the frequency of the output signal in accordance with the frequency of the reference device;
displacement of the output signal level value to compensate the impact of the device being tested;
40 themes of the screen interface for the individual setting;
screen shutdown function to save battery charge;
small mass and sizes: 400 grams with "pocket" dimensions 150 × 81 × 27 mm;
intelligent system for determining the maximum charging current depending on the power supply;
built-in battery capacity of 5000 mAh provides up to 5.5 hours of autonomous operation of the device.
Тechnical characteristics

ARINST ArSiG-S

Frequency range

1-6200 MHz

Output power level error

1
±1 dB

Frequency resolution

3 kHz

Step of setting the output power level

0.1 dB

SSB phase noise @ 1GHz (carrier offset = 100 kHz)

-95.2 dBc/Hz

Nominal output power level

+10 dBm

Minimum output power level

1-3000 MHz
-20 dBm
3000-5500 MHz
-10 dBm
5500-6200 MHz
-20 dBm
Output impedance
50 Ohm
Maximum DC Input Voltage
+25 V
Maximum input power
+10 dBm
Number of stored user settings
10
The number of stored sweep items in each list
50
Working temperature range
0 ... +40оС
Screen diagonal
4"
Screen type
touch resistive
Screen resolution
800×480
Output port connector type
SMA female
External reference signal source
Connector type
SMA female
Input frequency range
10-40 MHz
Input signal level
maximum
+13 dBm
recommended
+5 ... +10 dBm
Input impedance
50 Ohm
External trigger
Connector type
SMA female
Maximum input voltage
+3.3 V
Power consumption and dimensions
Supply voltage
5 V
Power consumption
3.7 W
Maximum consumed current, no more
when charging the battery2
≤2 А
when working from USB with battery charging3
≤2 А
Battery capacity
5000 mAh
Time of continuous battery life4
4.5 h
Battery charge time
3.5 h
Overall dimensions (L × W × H)
150×81×27 mm
Weight
0.4 kg
1 The measurement is performed after warming up the device for at least five minutes. The change in ambient temperature from the moment of calibration to measurements should not exceed ± 3°С.

2 When connecting the device to a charger with an output current of at least 3A.
3 If your PC has a limit on the maximum current supplied to the USB port, the device will automatically limit the maxi-mum charging current according to the current USB specification.
4 At an ambient temperature of 20±5°C after the battery is fully charged.
The graph of the generator's maximum output power level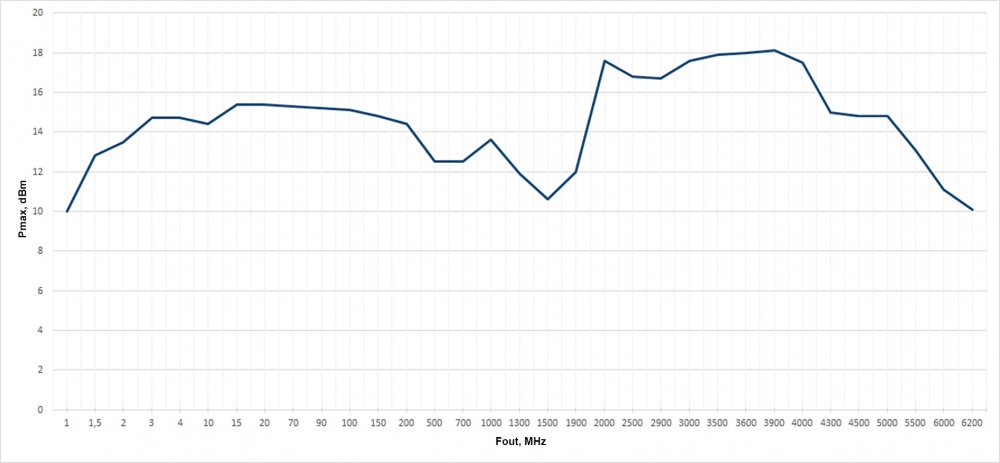 Broadband Non-harmonic Spurious spectral components
| | |
| --- | --- |
| Frequency, MHz | dBc |
| 1-100 | < -75 |
| 100-3000 | < -72 |
| 3000-6200 | < -60 |
Harmonics (2nd or 3rd harmonics, whichever is worse).
| | |
| --- | --- |
| Frequency, MHz | dBc |
| 1 | -25 |
| 5 | -35 |
| 10 | -36 |
| 50 | -36 |
| 100 | -36 |
| 500 | -34 |
| 1000 | -24 |
| 2000 | -16 |
| 3000 | -21 |
| 4000 | -31 |
| 5000 | -36 |
| 6000 | -40 |
| 6200 | -50 |
Phase noise
Frequency, MHz
Offset from carrier
1 kHz
10 kHz
100 kHz
1 kHz
SSB phase noise, dBc/Hz
1
-88.1
-93.4
-95.1
-
10
-95.8
-96.5
-95.3
-123.1
100
-93.1
-94.9
-97.1
-121.6
1000
-90.3
-90.8
-95.2
-119.8
2000
-93.2
-87.9
-105.4
-129.4
3000
-84.4
-82.8
-100.8
-127.1
4000
-82.7
-84.1
-99.5
-128.4
5000
-79.8
-81.8
-96.1
-125.7
6000
-82.9
-77.5
-94.8
-123.1
6200
-82.3
-77.6
-91.8
-122.1
Pulse modulation
On/off Ratio
Frequency, MHz
1
>70

dB

(

typ.

)
10
>70

dB

(

typ.

)
100
>70

dB

(

typ.

)
1000
70

dB

(

typ.

)
3000
70

dB

(

typ.

)
5000
60

dB

(

typ.

)
6000
60

dB

(

typ.

)

Minimum pulse width

1000

μs

(

typ.

)

Minimum pulse period

2000

μs

(

typ.

)

Maximum pulse period

1000000

μs

(

typ.

)
Screen interface of the device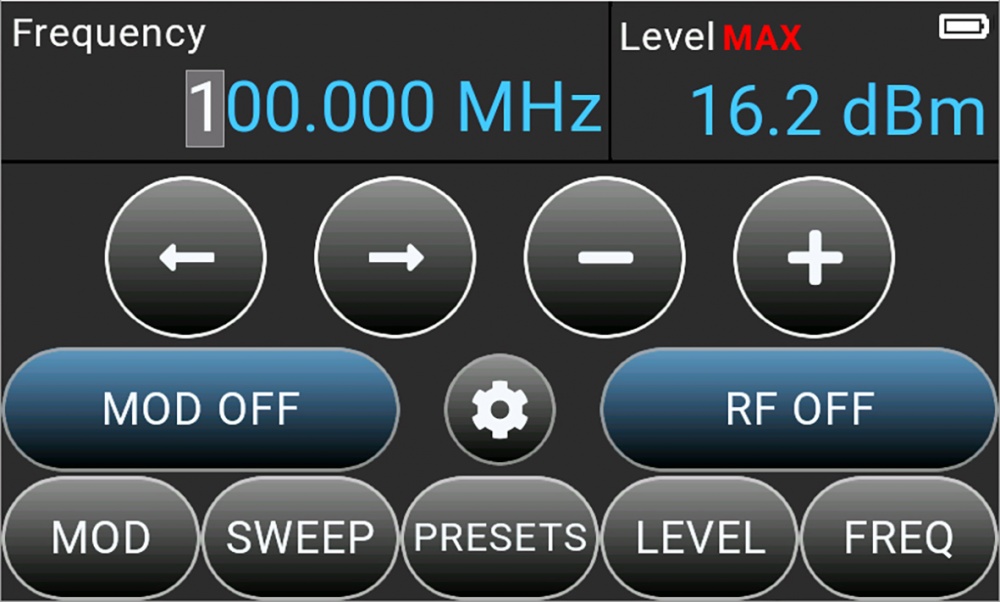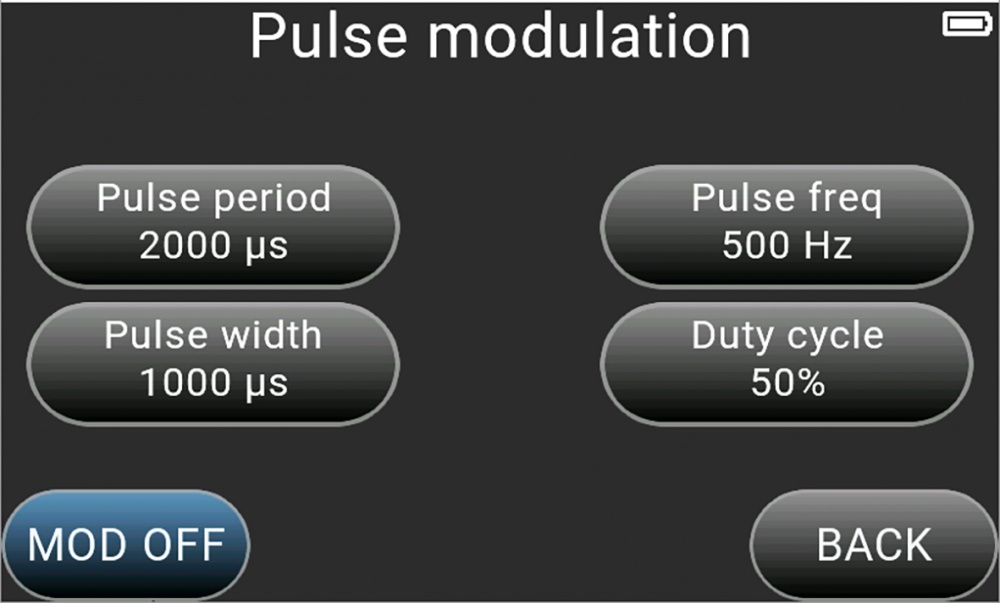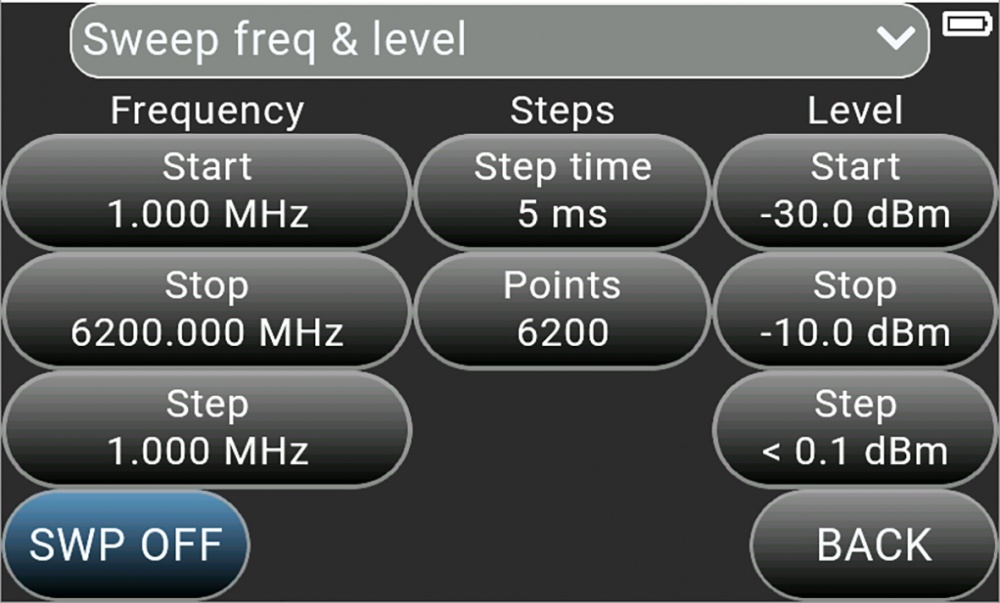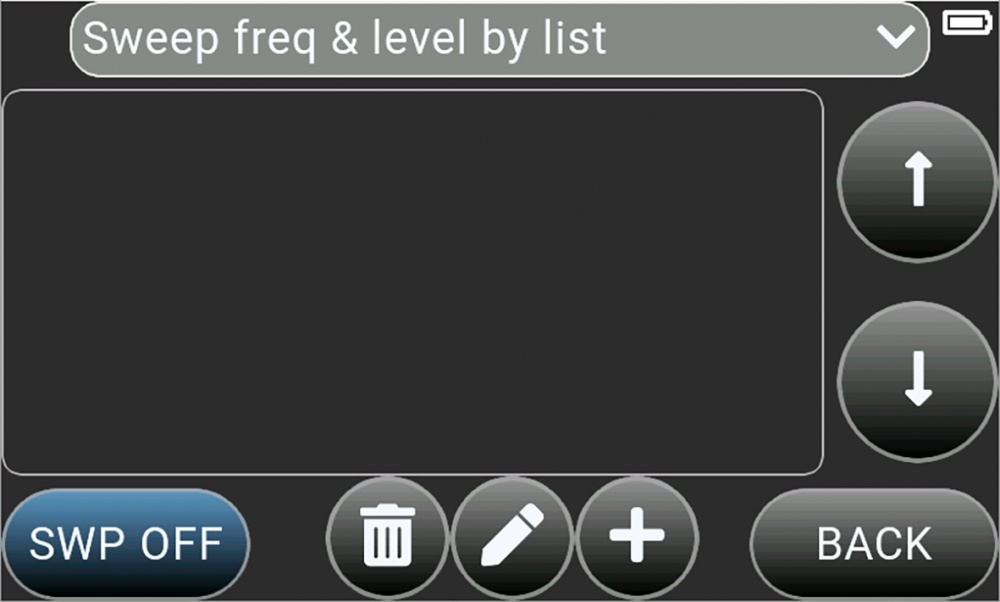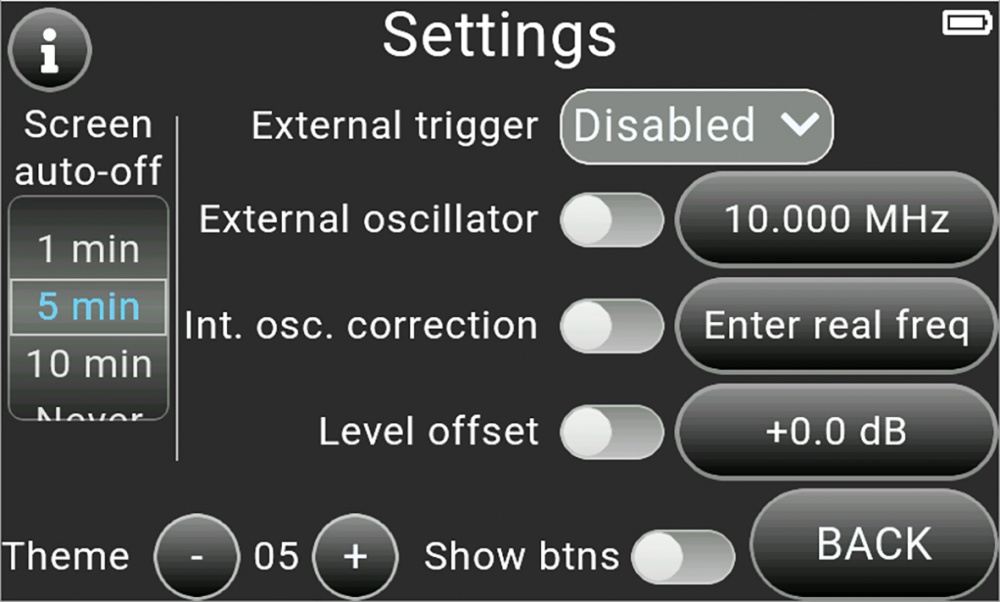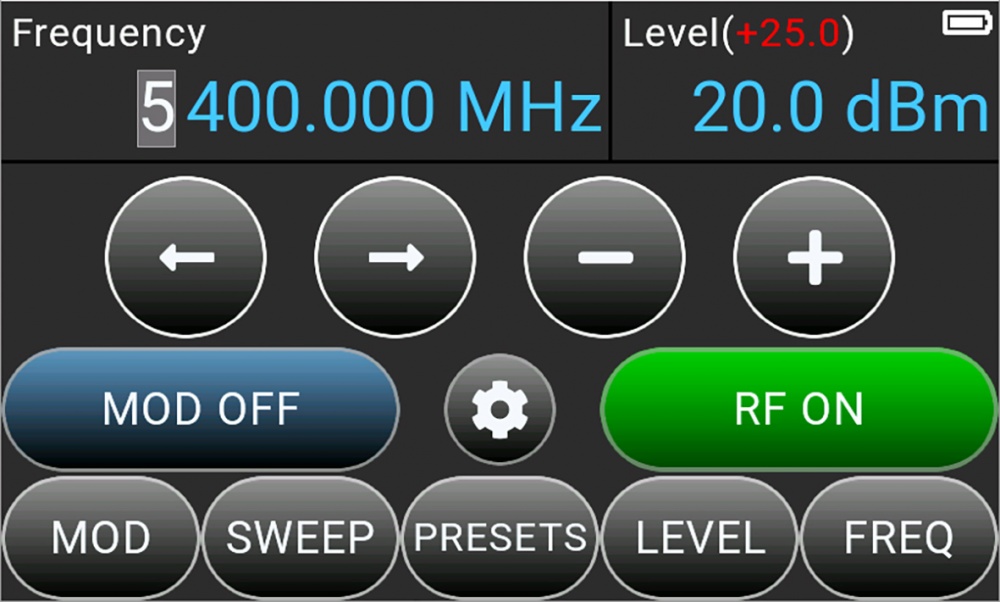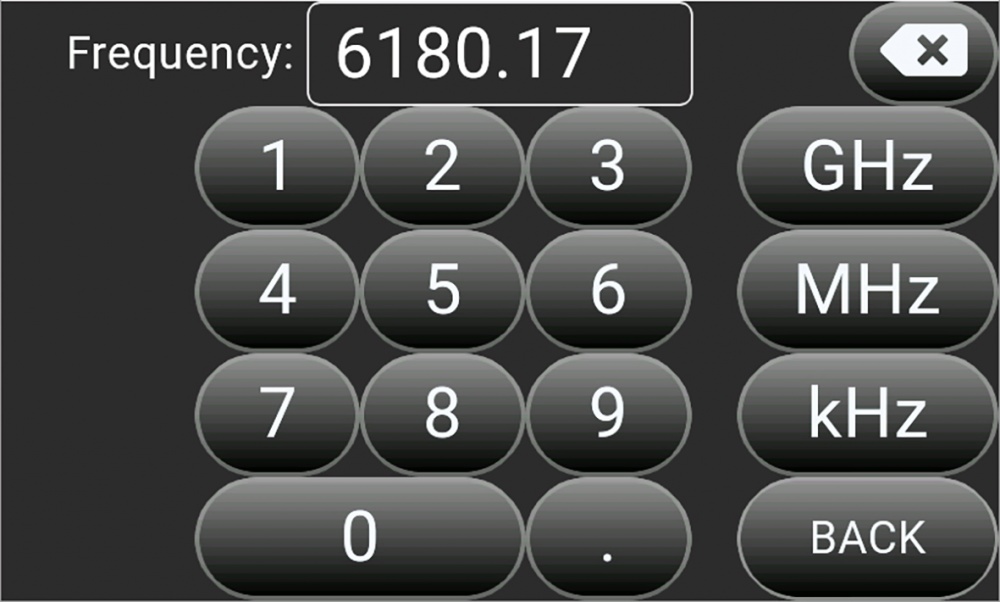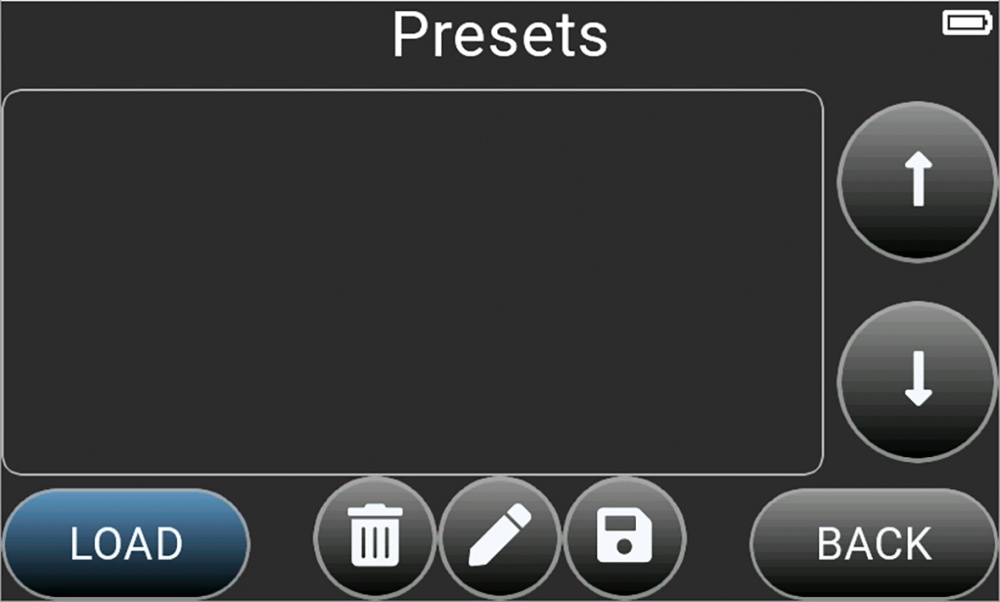 Block diagram of the ARINST ArSiG-S signal generator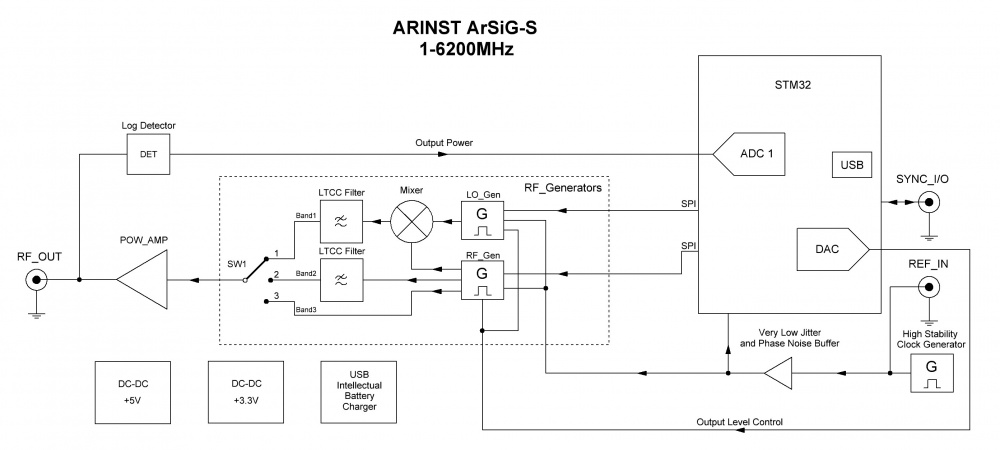 | | | |
| --- | --- | --- |
| Dimensions (length , width , height ), mm | | |
| | |
| --- | --- |
| | Cable mini-USB(male) on USB2.0(male) |
| | |
| --- | --- |
| | Adapter SMA(female)-SMA(female) To protect the connector from wear |