Arinst SSA-TG R3 – is a portable panoramic spectrum analyzer with a built-in tracking generator and demodulator, designed to display the spectral components of signals in the frequency range from 24 MHz to 12 GHz. High scanning speed makes it possible to detect impulse signals of digital communication standards: Wi-Fi, 2G, 3G, 4G, LTE, CDMA, DCS, GSM, GPRS, GLONASS, etc. The built-in tracking generator allows you to measure the frequency response of passive or active devices, such as filters, amplifiers. The WFM/FM/AM signal software demodulator is designed for listening to the air and tuning analog radio transmitters. Setting the regional coverage frequencies of cellular operators allows you to match the displayed signal with the corresponding operator.
A full description of all the functions of the analyzer is available at this link
For ease of operation, the built-in software of the device allows you to sign and highlight frequency ranges on the screen with color. For example, sign the names of radio stations, WiFi channels or frequency ranges of mobile operators.
For whom?
The spectrum analyzer ARINST SSA-TG R3 is designed primarily for field work, it has a small weight, size and low power consumption. With its help, service centers and repair teams can conduct RF analysis on the spot for commissioning or repair work. In addition, the spectrum analyzer is ideal for repair shops and radio amateurs.
With the help of the device, the following works can be performed:
point the external antenna at the base station
conduct an express analysis of the radio frequency environment
check the correct operation of the cellular repeater
repair and configure the repeater, generator, filter
set up a radio transmitter with analog modulation
How does it work?
The device is built on the basis of superheterodyne conversion of the spectrum to a zero intermediate frequency, contains a high-performance microprocessor that performs digital signal processing. With its help, it was possible to achieve a high scanning speed of up to 20 GHz / s and a frequency resolution of up to 2.5 kHz, as well as implement software demodulation of analog signals. To expand the dynamic range of the input signals, the analyzer is equipped with a low-noise amplifier and a fixed attenuator. Built-in tracking generator with adjustable output power allows you to measure cables, filters, etc.
Advantages of the spectrum analyzer ARINST SSA-TG R3:
color touch IPS display with a diagonal of 4 inches
wide frequency range: 24 MHz to 12 GHz
high scanning speed: up to 20 GHz/s
built-in tracking generator
WFM/FM/AM software demodulator
built-in speaker
3.5mm audio jack for headphone connection
full dynamic range including LNA and attenuator 125 dB
display of regional frequency distributions
customizable display themes
charging from mini-USB or from an external power supply with a voltage of 7-24 V
light weight and size: weight 400 g, dimensions 145x81x27 mm
autonomous operation up to 4 hours
Restrictions
The spectrum analyzer Arinst SSA-TG R3 is not a measuring device, as it does not have an approved type of measuring instrument. Approval of the type of measuring instrument would negatively affect the availability and price of the device. Therefore, the spectrum analyzer from the official point of view is an indicator of the field. However, despite this, the device fully complies with all the declared technical characteristics. The analyzer is not a full-fledged classical spectrum analyzer, because it does not use the classical frequency conversion scheme for 100% suppression of the mirror channel. We use mathematical suppression of the mirror channel, which in some rare cases can lead to the appearance of "phantom" signals in the displayed signals.
SPECIFICATIONS ARINST SSA-TG R3:

Frequency range
Displayed frequency range1
24 MHz - 12 GHz
Measured frequency range
24 MHz - 9 GHz
Maximum span
~12 GHz
Reference oscillator TXCO GPS
26 MHz
Frequency resolution
25, 10, 5, 2.5 kHz
Noise floor2
in the band 24 MHz - 6.2 GHz
-110 dBm
in the band 6.2 GHz - 9 GHz
-100…-70 dBm
in the band 9 GHz - 12 GHz
-70 dBm
Scan options3
Maximum scan speed
20 GHz/s
Minimum scanning time of the full frequency band is 12 GHz
0.6 s
RF input
Gain when the attenuator is turned on
-15 dB
Gain with a low-noise amplifier turned on
+15 dB
Wave impedance
50 Ohm
SWR in the operating frequency range
< 2.0
Maximum input power with attenuator and LNA off
0 dBm
Maximum input power with attenuator on
+15 dBm
Maximum input power with LNA on
-15 dBm
Maximum DC input voltage
25 V
Tracking generator
Measurement modes
fixed, S21
Normalized output power level in the band 24-6200 MHz
-8 dBm: - 29 dBm
Normalized output power level in the band 6200-9000 MHz
-14 dBm
Depth of power adjustment in the band 24-6200 MHz
21 dB
Power control step in the band 24-6200 MHz
3 dB
Demodulator
Demodulation types
WFM, FM, AM
Functions
AGC, S-meter, squelch
Bandwidth for WFM
400, 300, 200, 100 kHz
Bandwidth for FM, AM
20, 10, 8, 6, 4 kHz
Audio output
2W speaker, headphones
Display
Screen type
touch resistive, IPS
Screen resolution
800×480
Graphs
spectrum, waterfall, S21
Power
Built-in battery capacity
5000 mAh
Battery life
~ 4 h
Battery charge time4
~ 3.5 h
PC connection interface
USB
External power supply
7-24 V, 2 А
Operating temperature range
0 … +40°С
Dimensions (L×W×H)
145x81x27 mm
Weight
0,4 kg
In the display range, the accuracy of the signals is not guaranteed.

The noise floor is measured with the LNA on and a spectral resolution of 2.5 kHz
Measurements are carried out in the "Speed" operating mode and a spectral resolution of 25 kHz
The source must provide at least 7 watts of power.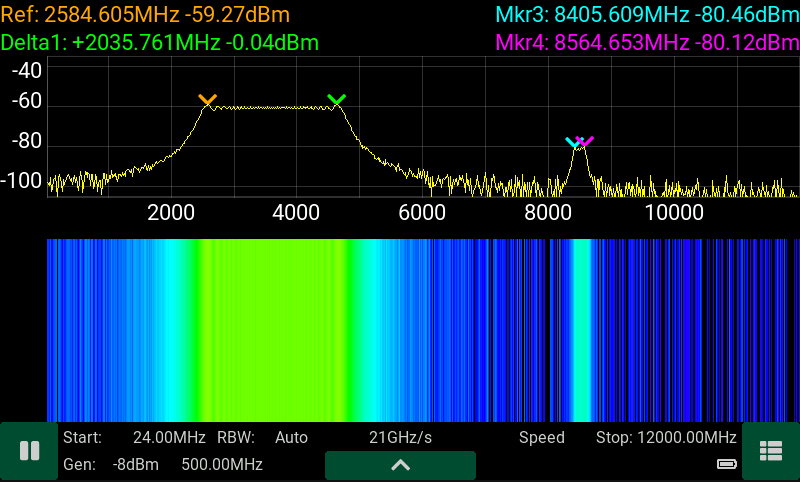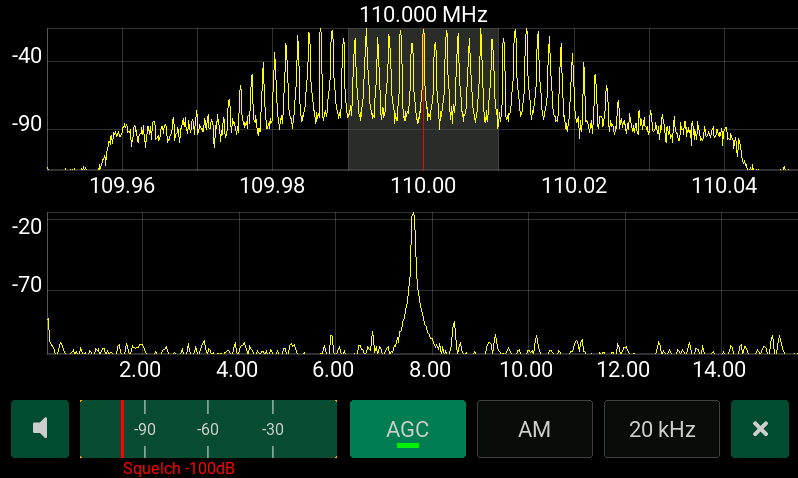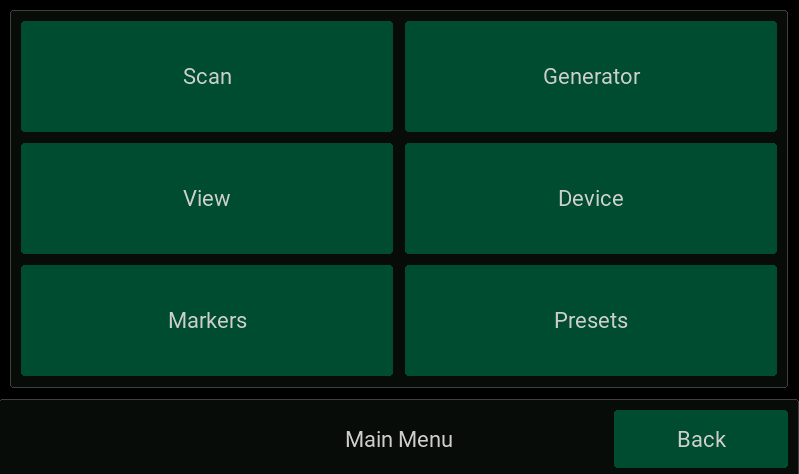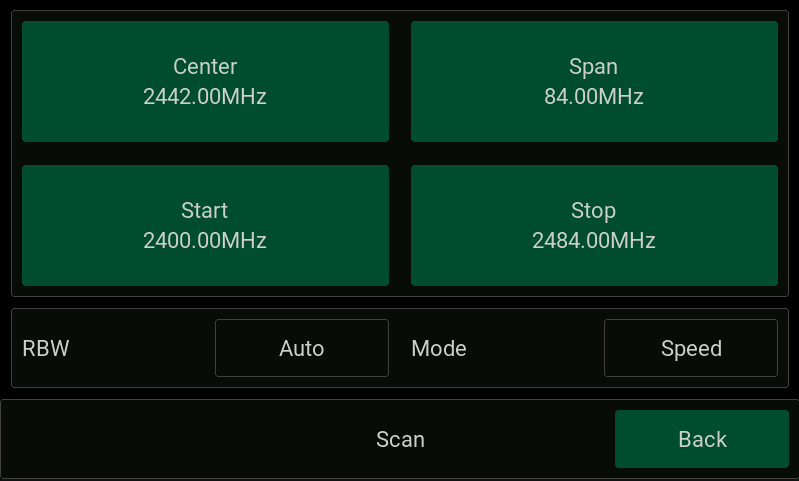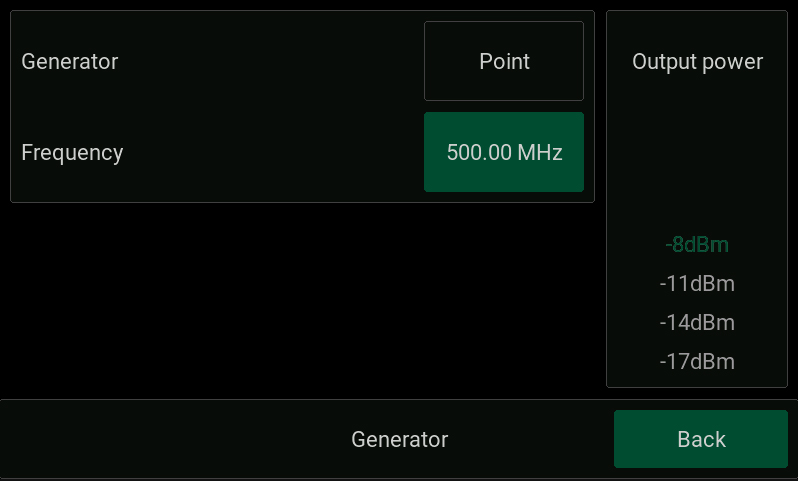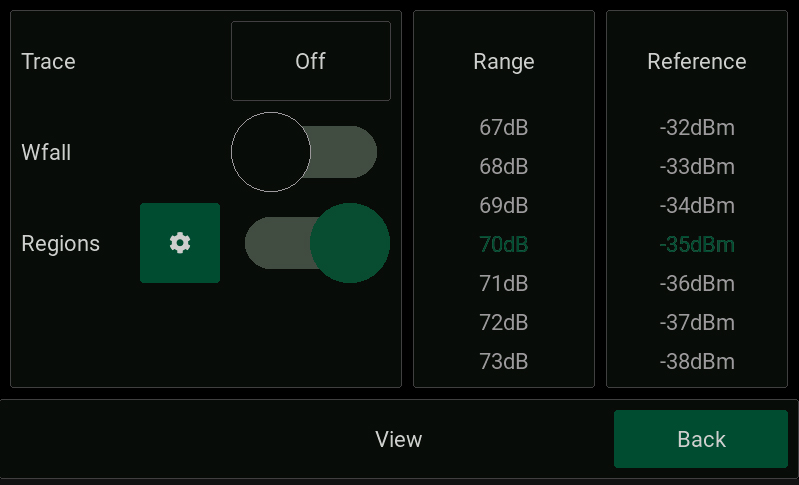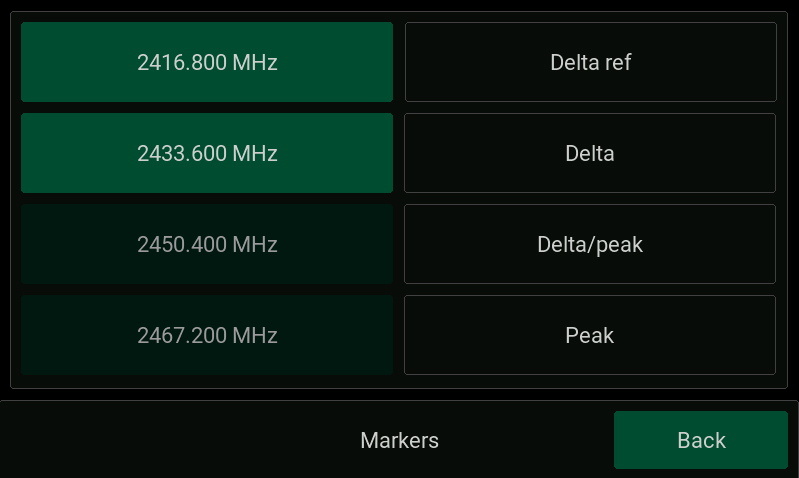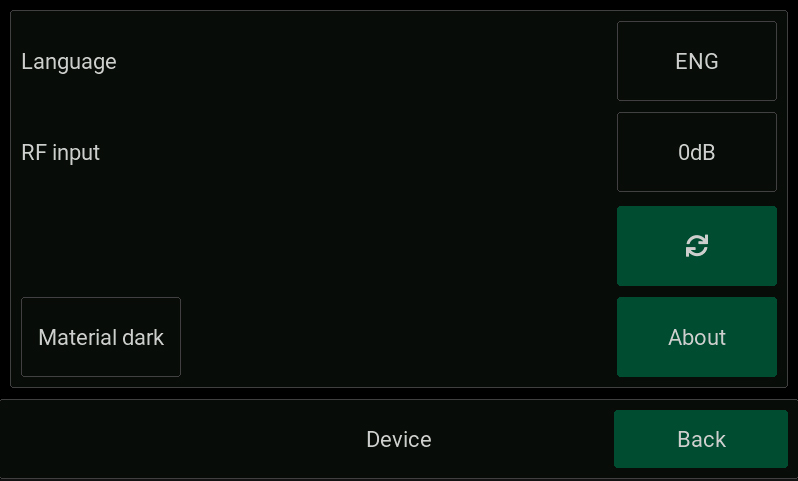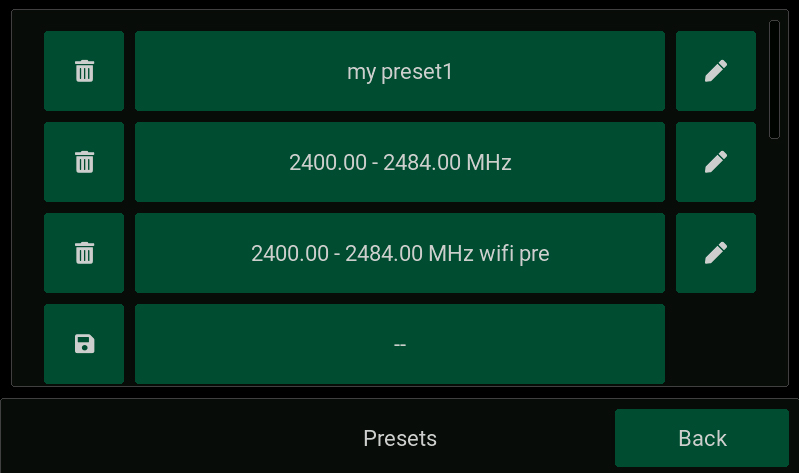 | | | |
| --- | --- | --- |
| Dimensions (length , width , height ), mm | | |
| | | |
| --- | --- | --- |
| | | Analyzer ARINST SSA-TG R3 |
| | |
| --- | --- |
| | Battery (installed in the device) |
| | |
| --- | --- |
| | HF adapter to protect connectors from wear (2 pcs.) |