Software for device download here.
For whom?
The two-port vector network analyzer ARINST VNA-DL 1-8800 MHz is made in a plastic case in the form of a desktop device, designed to measure the parameters of various radio devices (antennas, filters, amplifiers, etc.) in the design and manufacture of telecommunications equipment. The device is ideal for workshops, radio amateurs, educational institutions, service centers. Requires a PC running Windows 7-10 to work. (Not included in the package).
Usage examples:
Make impedance matching using a Smith chart
Tune the antenna
Measure standing wave ratio
Measure the frequency response of passive and active devices
Measure the phase response of passive and active devices
Tune filters of the main selection, filters of the intermediate frequency
Measure attenuation in cable, microstrip line, waveguide
Measure the distance to the fault in the cable or its length
To calibrate the device, we recommend using ready-made calibration kits with N-type and SMA-type.
To avoid premature wear of the instrument connectors, we recommend taking measurements with the screwed-on adapters supplied.
Advantages of the ARINST VNA-DL 1-8800 MHz two-port vector network analyzer:
wide operating frequency range: from 1 to 8800 MHz
maximum scanning speed - 500 points / s
high precision in measuring the reflection coefficient: 0.25 dB and 0.7° in the entire frequency range
display of almost all possible interpretations of reflection coefficient and transmission coefficient
the ability to measure the distance to fault and loss in the cable
saving user presets and measurement results-traces (in Touchstone format)
power supply and control of the device via the USB port of the PC
low weight and dimensions: 250 grams , 155×127×29 mm
Technical characteristics ARINST VNA-DL 1-8800 MHz

Working frequency range
1 - 8800 MHz
Frequency resolution
for frequencies 1-140 MHz
100 Hz
for frequencies 140-8800 MHz
10 kHz
Maximum number of scan points
1000
Scanning speed for one channel (BW = 1 kHz)
500 points/s
Dynamic range S21 (BW=20 Hz)
for frequencies 1-4000 MHz
>80 dB typ. 85
for frequencies 4000-6900 MHz
>75 dB typ. 80
for frequencies 6900-8800 MHz
>65 dB typ. 75

Bridge directivity uncorrected across the entire range, not less

12 dB

Effective directivity 1 (after a full single-port calibration), not less

55 dB
Input standing wave ratio, no more
2 (1.3 typ.)
Phase measurement precision1, no more
0,7о
Magnitude measurement precision1, no more
0,25 dB
Resolution of determining the distance to the fault2
(C x VF) / 2S м
Maximum length of the measured cable3, when VF=1
3000 m
Compensation of the electrical cable length, when VF=1
±3 m
Maximum DC Input Voltage
25 V
Maximum input power supplied to ports
+ 10 dBm
Maximum power of the probing signal, no more
-3 dBm
Displayed graphs
■Smith chart; ■polar chart; ■phase of the reflection coefficient (RC) and phase of the transmission coefficient (TC); ■magnitude RC and TC; ■logarithmic magnitude RC and TC; ■SWR; ■distance to fault; ■cable loss; ■group delay time
The number of stored user settings
not limited
The number of stored traces
not limited
Working temperature range
0 ... +40оС
PC connection interface
USB
Maximum current consumption, no more than
1 А
Overall dimensions (L×W×H)
155×127×29 mm
Weight
0,25 Kg
1 The measurement is performed after the instrument has warmed up for at least five minutes with a full two-port calibration. The change in ambient temperature from the moment of calibration to measurements should not exceed ±3 °С.
2 Where С - speed of light m / s; VF – the speed factor (the ratio of the speed of propagation of an electromagnetic wave in a cable to the speed of propagation of an electromagnetic wave in a vacuum), takes a value depending on the cable from 0.1 to 1; S – scanning frequency range (Hz).
3Depends on the amount of attenuation in the cable and is the indication limit on the display.
Diagrams and plots
Device control interface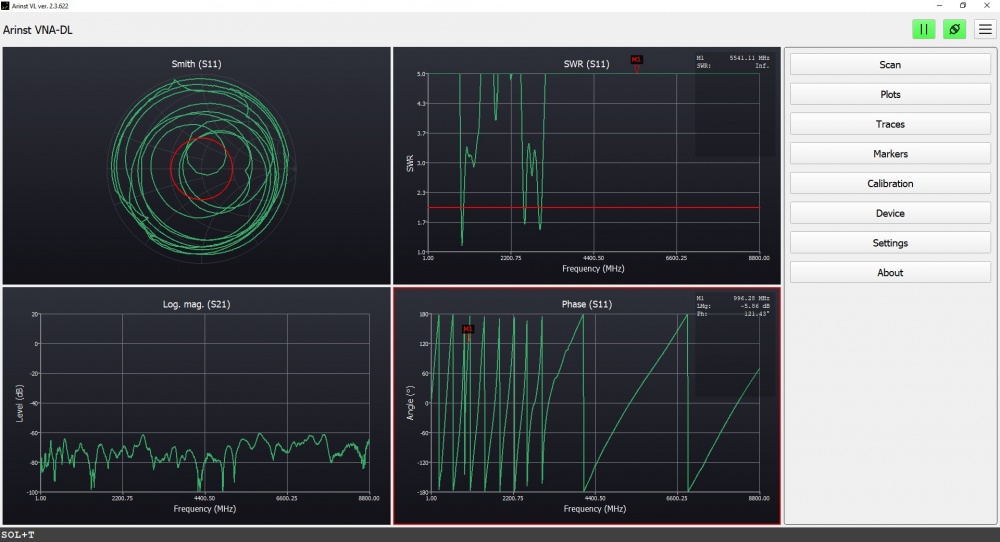 Graphics menu item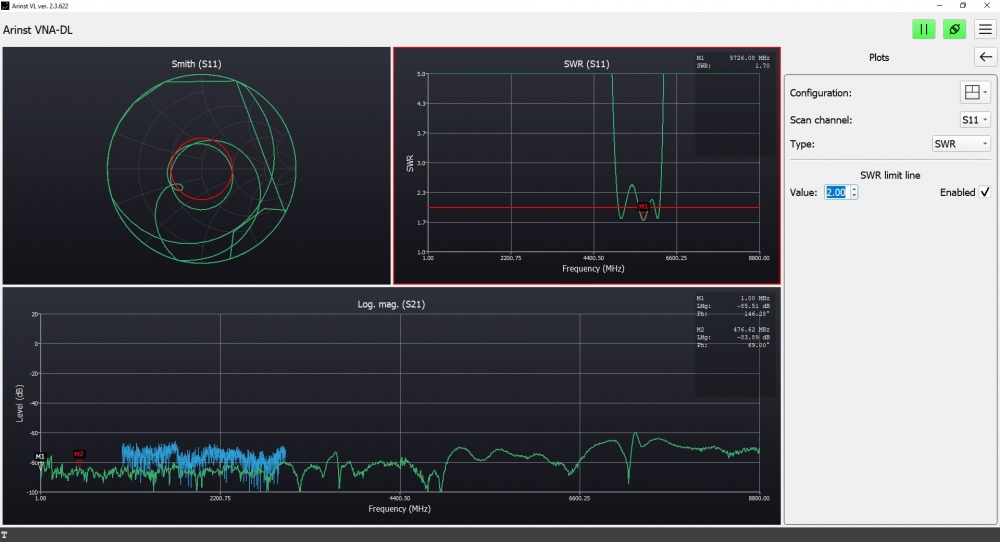 Calibration menu item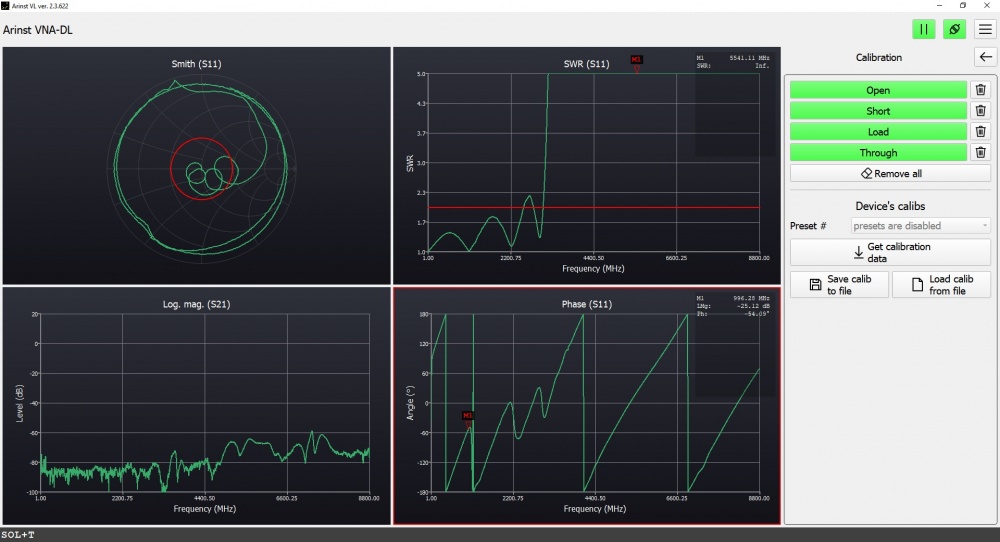 Tracks menu item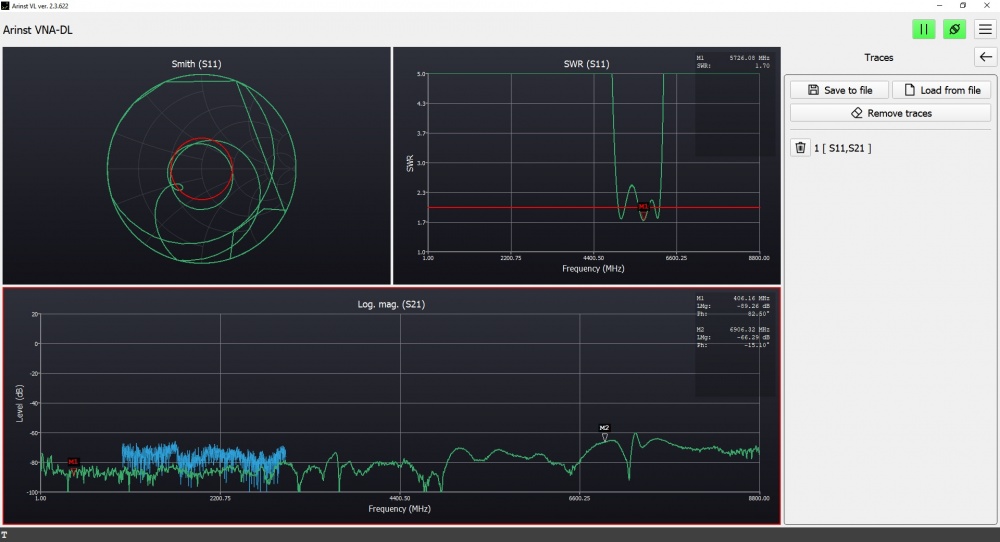 Markers menu item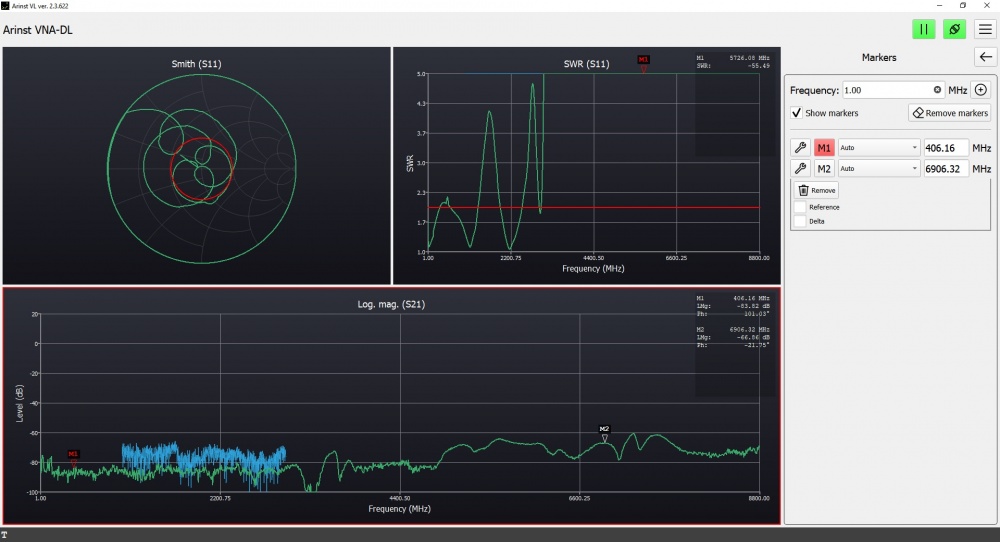 Scanning menu item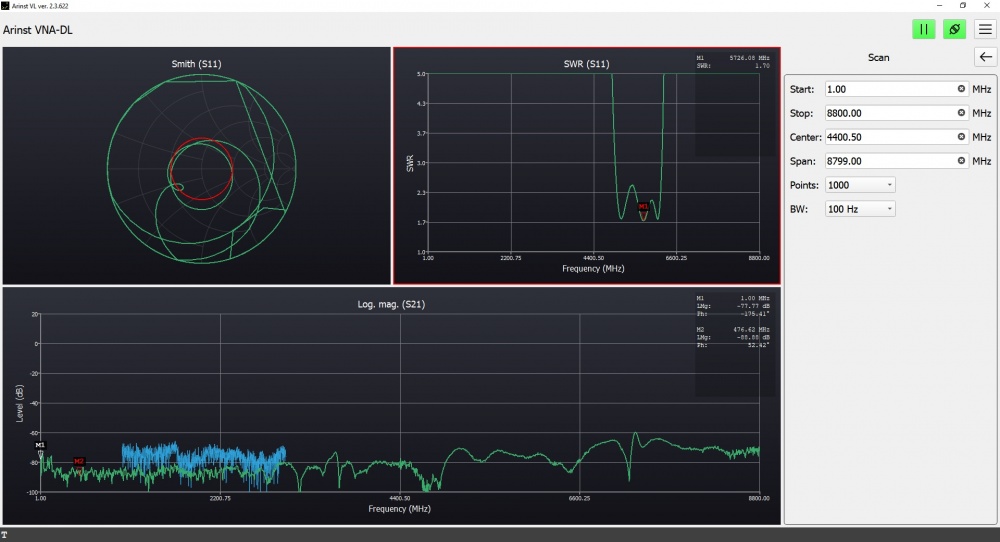 Low Pass Filter characteristics (LPF)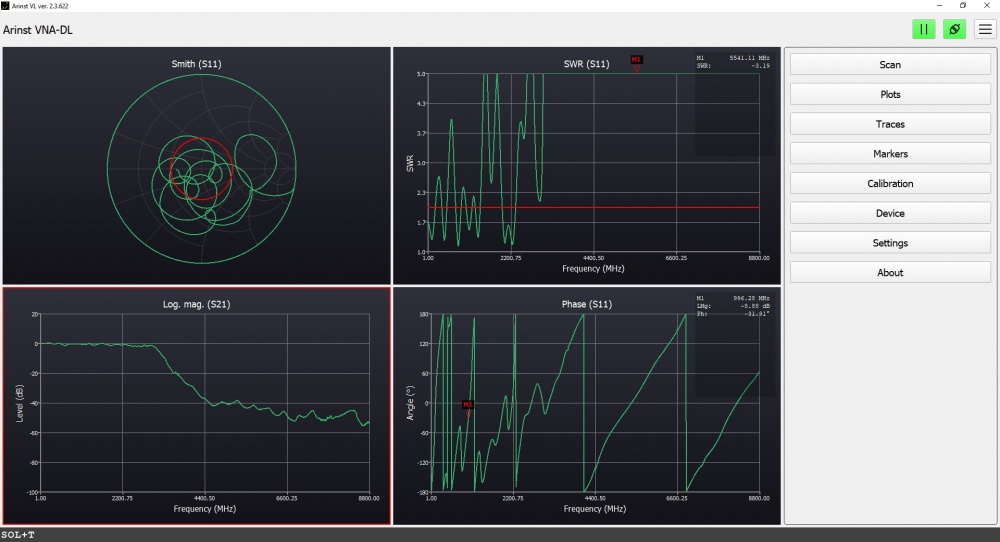 High Pass Filter characteristics (HPF)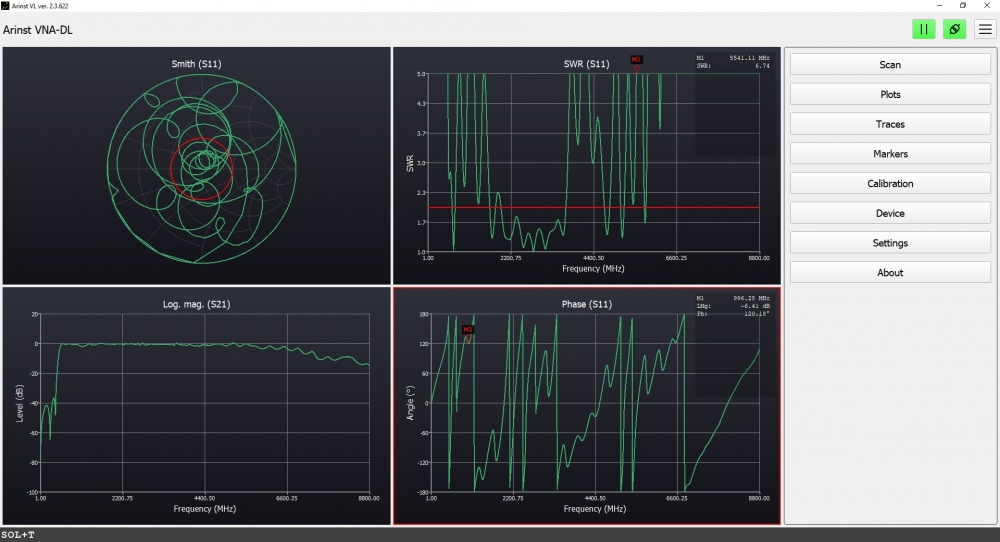 Bandpass filter characteristics (BPF)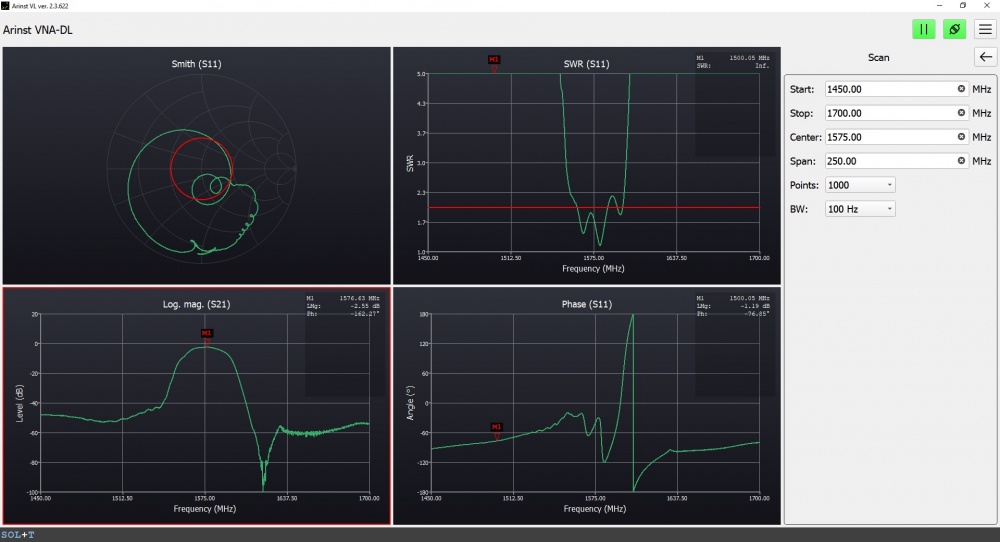 Block diagram of a two-port vector network analyzer Arinst VNA-DL 1-8800 MHz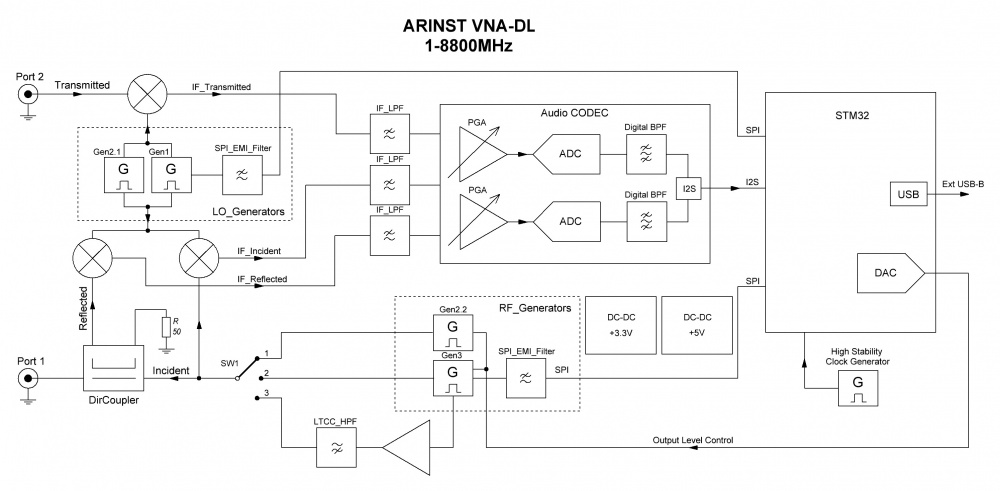 | | | |
| --- | --- | --- |
| Dimensions (length , width , height ), mm | | |
| | | |
| --- | --- | --- |
| | | Adapter SMA(female)-SMA(female), 2 pc |
| | |
| --- | --- |
| | Cable Double USB2.0(male)-A to USB2.0(male)-B, with data transfer, 120 cm |