Ready kit for the suburbs. The gain cell phone signal GSM 900 for small premises up to 100 m2.
This kit is recommended for use in areas where signal is bad or missing, and on the street is acceptable or good.
Equipped with an external GSM antenna with gain of 9 dB and an internal compact wall-mounted antenna with gain of 7 dB, a repeater GSM900 RK900-50F.
Scope of the kit KRD900
offices,
small shops
private vacation homes(cottages),
small restaurants or cafes
the cabins and other small rooms
cars
Depending on the level of the input signal, the coverage area will be from 30 to 100 m2 (the worse the input, the smaller the area of coverage)
Is repeater radiation harmful to health?

On the contrary. Repeater installed in the room with poor signal, reduces the harmful radiation, because the mobile phone does not need to emit at full power to connect with the base station operator.
The radiation power of the repeater is about 10 mW. Phone switches to a low radiation power, as he will need to connect already with the repeater, which is located at a distance of several meters.

Thus, the use of the repeater reduces the harmful effects from the device, and increases the operation time from the battery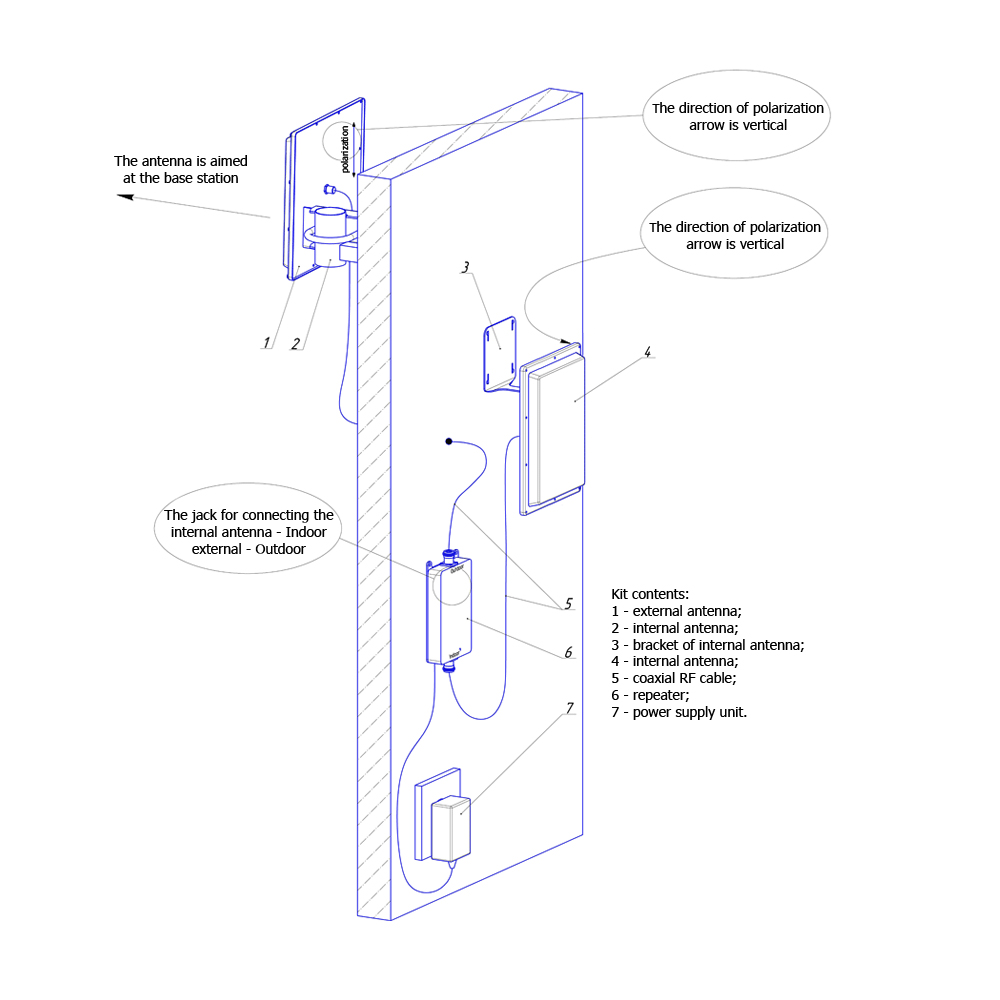 | | | |
| --- | --- | --- |
| Dimensions (length , width , height ), mm | | |
Repeaters characteristics:
| | | |
| --- | --- | --- |
| Operating frequency range UpLink | | |
| | | |
| --- | --- | --- |
| Operating frequency range DownLink | | |
| | | |
| --- | --- | --- |
| Maximum output power UpLink | | |
| | | |
| --- | --- | --- |
| Maximum output power DownLink | | |
| | |
| --- | --- |
| | Cable assembly F-F 10 meters - 2 pcs |
| | |
| --- | --- |
| | Bracket KH-200 for attaching an external antenna |
| | |
| --- | --- |
| | KPR3 bracket for mounting the internal antenna |
| | |
| --- | --- |
| | Kit of hardware for mounting the brackets |